Four Roller Hydraulic Rolling Machine
Four Roller Hydraulic Rolling Machine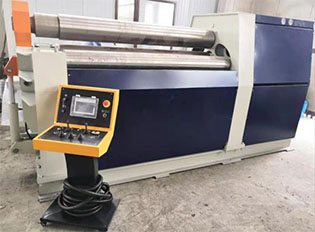 Our roller rolling machine , We introduced the advanced technology from abroad and combine the domestic characteristics. It is efficient, low energy consumption and easy to operate.
The four roller rolling machine, The upper roller and lower roller are for drive. Power through the planetary Reducer with the upper and lower rollers engagement,provide torsion for rolling plate. The lower roller moves vertically so that the plates can be clamped tightly;The are side bars alongside the lower roller and can move in arc line
through hydraulic cylinder drive.The four roller all are adopted the self-aligning roller bearing. The advantage for the machine is that it can finish the pre-bending of the two sides and coil the shape of cylinder and arc without any auxiliary equipments. It also can level some metal sheets.
Details
Four roller rolling machine diagram

1. The main Structure Description:
The special rolling machine has the double function of pre-bending and coiling.
The structure include bottom panel, downturn side bars, fixed side bars, working roller, drive system, lower roller up and down system,hydraulic system and electrical control system.
The whole structure of the machine is reliable and easy to operate. The up and down movement of the lower roller and side bars are all equipped with digital display.So it can be actually operated.The downturn and reset of the upper roller, the upper roller balance are all acted by cylinder.Also the unloading is very convenient.
The upper roller and lower rollers are for drive, The upper roller is fixed and lower roller can move up and down and clamp the sheet tightly. When the plate is clamped by the upper and lower roller,the four roller move, the plate and working roller touch together, the plate moves. Through the up and down of the side roller, the up movement of the side roller can be adjusted, the arc shape and round working piece diameter can be realized according to the request. Th side roller is auxiliary roller. It is rotated by the friction between the working roller surface and metal plate.
There is a downturn cylinder along the downturn machine frame. When the coil is finished, the cylinder is balanced, the downturn cylinder moves, the sheet can be unloaded. The downturn frame is restored by the downturn cylinder. So far it is called one working cycle.
Compared with the advantages of 3-Roller Rolling Machine:
Four roller rolling machine subsidiary parts have feeding platform and upper and lower retainer devices. feeding platform and upper and lower retainer devices can replace the bridge crane with cooperate rolling operation, significantly improve the work efficiency,normal 3-roller rolling machine rolling a wind tower needs 30~45 minutes while the four roller rolling machine only use 8~12 minutes.
Coupled with the assist Time,one four roller rolling machine can rolling 20 wind towers per shife(8 hours) compared with 3-roller rolling machine more than 10~15. lower retainer devices contains feeding device, can eliminate the process of rolling the wrong side of the formation, so that greatly improved the precision rolling. Side roller afterburner increased leverage real pressure, so that small-diameter cylinder roll possible .arc four roller rolling machine can roll on roll diameter of 1.1 times the cylinder, while the normal three roller rolling machine roll diameter is usually greater than 1.5 times the diameter of the roller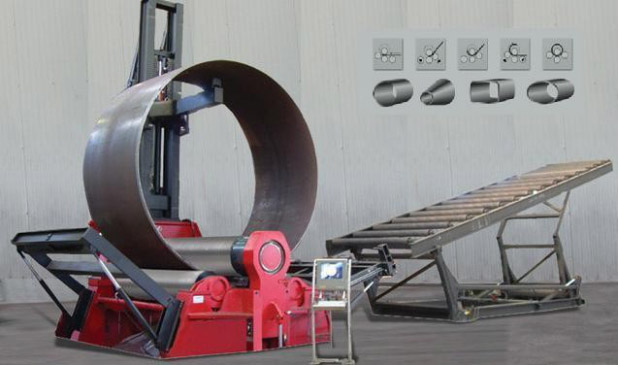 Specifications
| | |
| --- | --- |
| Type | W12HXNC-8×2000 |
| Max plate width | 2000mm |
| Working roller length | 2100mm |
| Max rolling thicknes | 8mm(σs≤140MPa ) |
| The length of the end line when full loaded | ≤2.5*Tmm |
| rolling capity (σs≤140MPa ) | T8*B2000*φmin800 |
| upper roller diameter | 170mm |
| lower roller diameter | 170mm |
| side roller diameter | 150mm |
| Rolling speed | 5 (m/min) |
| Motor power | 3kw |