Mechanical Plate Bending Machine
Mechanical Plate Bending Machine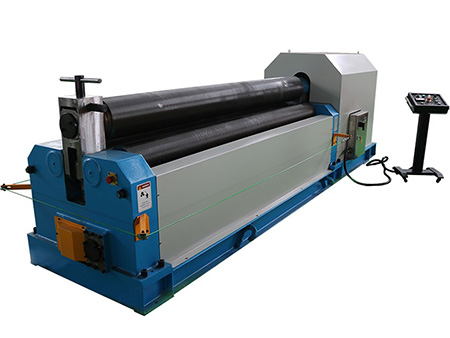 The mechanical plate bending machine is a 3-roller symmetrical plate rolling machine. The upper roller does vertical movement at the central position of the two lower rollers, while the two lower rollers operate in rotary motion. These two lower rollers are main drive rollers which rotate by the meshing between the reducer output gear and the lower roller to provide torque for the bending plate.
The vertical movement of the top roller is controlled by a separate transmission system, it is transmitted by screw nut and worm gear.
This mechanical plate bending machine can be configured with various profile bending molds to roll a variety of profiles, such as steel angle, steel flat bar, H-channel, steel rod. The cone rolling unit can also be added to roll cone-shaped workpieces.
Applications
Details
Optional configurations
Specifications
| | | | | | | |
| --- | --- | --- | --- | --- | --- | --- |
| Model | W11-4x1500 | W11-4x2000 | W11-4x2500 | W11-6x2500 | W11-6x3000 | W11-8x2000 |
| Max. rolling thickness(mm) | 4 | 4 | 4 | 6 | 6 | 8 |
| Max. rolling width(mm) | 1500 | 2000 | 2500 | 2500 | 3000 | 2000 |
| Min. rolling diameter at full loading(mm) | 230 | 350 | 400 | 500 | 500 | |
| Yielding limited(Mpa) | 245 | 245 | 245 | 245 | 245 | 245 |
| Upper roller diameter(mm) | 150 | 160 | 170 | 185 | 220 | 185 |
| Lower roller diameter(mm) | 130 | 140 | 160 | 170 | 180 | 170 |
| Central distance between lower rollers(mm) | 200 | 220 | 260 | 260 | 280 | 260 |
| Main motor power(KW) | 3 | 4 | 5.5 | 5.5 | 5.5 | 5.5 |
| | | | | | | |
| --- | --- | --- | --- | --- | --- | --- |
| Model | W11-8x2500 | W11-10x3000 | W11-12x2000 | W11-12x2500 | W11-12x3000 | W11-16x2500 |
| Max. rolling thickness(mm) | 8 | 10 | 12 | 12 | 12 | 16 |
| Max. rolling width(mm) | 2500 | 300 | 2000 | 2500 | 3000 | 2500 |
| Min. rolling diameter at full loading(mm) | 600 | 850 | 550 | 600 | 700 | 700 |
| Yielding limited(Mpa) | 24 | 245 | 24 | 245 | 245 | 245 |
| Upper roller diameter(mm) | 240 | 260 | 240 | 260 | 280 | 280 |
| Lower roller diameter(mm) | 200 | 220 | 200 | 220 | 240 | 250 |
| Central distance between lower rollers(mm) | 300 | 320 | 300 | 320 | 360 | 360 |
| Main motor power(KW) | 7.5 | 11 | 7.5 | 11 | 15 | 15 |
| | | | | |
| --- | --- | --- | --- | --- |
| Model | W11-20x2000 | W11-20x2500 | W11-20x3000 | W11-25x2500 |
| Max. rolling thickness(mm) | 20 | 20 | 20 | 25 |
| Max. rolling width(mm) | 2000 | 2500 | 3000 | 2500 |
| Min. rolling diameter at full loading(mm) | 700 | 800 | 900 | 1000 |
| Yielding limited(Mpa) | 245 | 245 | 245 | 245 |
| Upper roller diameter(mm) | 280 | 340 | 360 | 360 |
| Lower roller diameter(mm) | 250 | 260 | 260 | 300 |
| Central distance between lower rollers(mm) | 360 | 440 | 480 | 480 |
| Main motor power(KW) | 15 | 18.5 | 22 | 22 |