Asymmetrical Plate Bending Machine
Asymmetrical Plate Bending Machine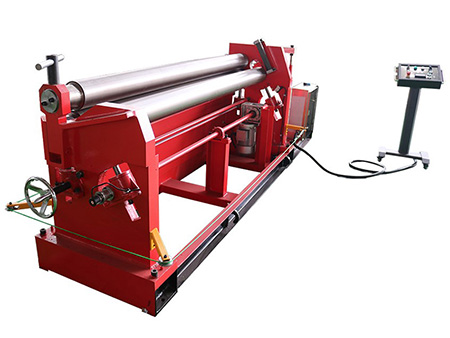 Asymmetrical plate bending machine is a 3-roller plate rolling machine suited to bend various metal plates, capable of processing round and arc shaped workpieces. With the function of pre-bending of the plate end, the plate bending machine can accomplish pre-bending and rolling operations.
The asymmetrical plate bending machine has a structure consists of 3 asymmetrical 3 rollers. Both the top roller and lower roller are main drive roller. The lower roller moves vertically to clamp the metal plate, and the side roller does titling movement to roll the metal plate into the circle with desired diameter. The top roller is designed with a drum shape to improve straightness of finished workpiece. The plate bending machine is featured by high precision, compact structure and easy maintenance.
Features
Three rollers are made of high quality alloy steel which is subjected to forging, quenching and tempering process, the high frequency quenching hardness reaches HRC45 level. They are suitable for high-load operation while guaranteeing a long service life.
SF bearing is used at the end of working roller, providing sufficient bearing capacity.
High quality electrical components are used to ensure long service life and maintenance free operation.
Balancing system is outfitted to upper roller, it makes the upper roller to be remained in a balanced state when the finished workpiece is tilted for taking out.
Machine base is an integral structure, robust and easy to assembly. Both machine body and base are annealed for eliminating of internal stress and improving of processing accuracy.
Applications
Details
Specifications
| | | | | | |
| --- | --- | --- | --- | --- | --- |
| Model | W11F-5X1500 | W11F-6X1500 | W11F-6X2500 | W11F-6X3000 | W11F-8X2000 |
| Max. rolling thickness (mm) | 5 | 6 | 6 | 6 | 8 |
| Length of working roller (mm) | 1550 | 1550 | 2550 | 3050 | 2050 |
| Max. rolling length (mm) | 1500 | 1500 | 2500 | 3000 | 2000 |
| Asymmetry rolling capacity (as< 245Mpa) | 6x1500XΦ240 | 6x1500XΦ240 | 6x2500XΦ290 | 6x3000XΦ300 | 6x2000XΦ3000 |
| Diameter of upper roller (mm) | Φ150 | Φ150 | Φ190 | Φ200 | Φ190 |
| Diameter of lower roller (mm) | Φ150 | Φ150 | Φ190 | Φ200 | Φ190 |
| Diameter of side roller (mm) | Φ150 | Φ150 | Φ190 | Φ200 | Φ190 |
| Rolling speed (m/min) | 3 | 3 | 3 | 3 | 3 |