Section Bending Machine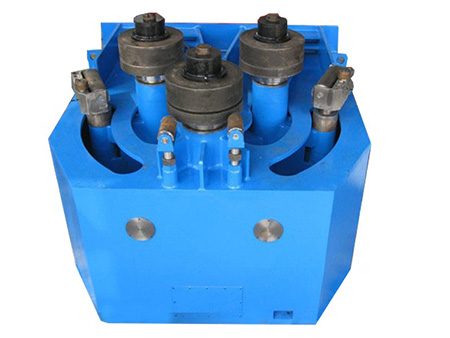 Section bending machine is a profile bending machine suited to accomplish the processes of rolling and bending of various profiles.
Features
One roll is fixed and other two bending rolls move up and down, toward fixed rotation center, three rolls are all driving rolls that can be rotated forward and backward. The two bending rolls are hydraulically transmitted, providing smooth transmission and high reliability.
The fixed roll is supported by support rolls at two sides, these support rolls can achieve arc movement and rotation movement. Coupled with guide roll, the profile rolling accuracy can be better controlled.
Three rolls are driven by three high torque hydraulic motors to achieve forward and backward rotation. The rotation motion has a brake system to ensure a precision positioning of workpiece during rolling process.
Main rolls are featured by high strength, rigidity, surface hardness and processing accuracy, can ensure a high reliability and long service life. Three main rolls are supported by spherical roller bearings to reduce friction.
Hydraulic cylinder, central shaft and other transmission parts are all supported by SF-1 oilless sliding bearings.
Overload protection is outfitted to hydraulic system, and control console has an emergency stop button to enable the machine to be stopped immediately.
Applications
Details
Specifications
 
W24S
6
16
30
45
75
100
140
180
260
320
400
500
Section modulus
6
16
30
45
75
100
140
180
260
320
400
500
Bending speed (m/min) ^
6
5
4
Yield limit (MPa)
△-250
Steel angle inner bending
Max. cross section (mm)
40x5
70x8
80x8
90x10
100x10
120x12
140x16
150x16
160x16
180x14
200x18
200x20
Min. bending diameter (mm)
800
1000
1200
1500
2000
2500
2400
2600
2600
3600
3600
4000
Min. cross section (mm)
20x3
30x3
35x3
36x5
38x4
40x5
50x5
50x6
60x6
70x6
75x6
85x6
Min. bending diameter (mm)
400
550
560
600
600
720
1000
1200
1200
1500
1400
1600
 
Max. cross section (mm)
50x5
80x8
90x10
100x10
120x12
140x16
150x16
160x16
180x14
200x18
200x24
250x25
Min. bending diameter (mm)
800
1000
1100
1300
1600
1800
2200
2000
2500
3600
3600
4000
Min. cross section (mm)
20x3
30x3
35x3
36x5
38x4
45x5
50x5
50x6
60x6
70x6
75x6
85x6
Min. bending diameter (mm)
400
550
500
600
700
760
800
1000
1000
1300
1500
1600
Steel angle outer bending
Size of C beam
8
12
16
20
25
28
30
32
36
40
45
50
Min. bending diameter (mm)
600
800
800
1000
1100
1700
1200
1500
1800
2000
2000
2400
Steel channel outer bending
Size of C-beam
8
12
16
20
25
28
30
32
36
40
45
50
Min. bending diameter (mm)
700
900
1000
1150
1600
1700
1700
f800
1800
2000
2000
2400
Steel channel inner bending
Max. cross section (mm)
100x18
150x25
180x25
200x30
220x40
250x40
280x50
300x50
330x50
360x60
400x75
500x76
Min. bending diameter (mm)
600
700
800
900
1000
1200
1300
1500
1900
2000
2400
2400
Flat bar stand bending
Max. cross section (mm)
50x12
75x16
90x20
100x25
110x40
120x40
150x40
180x30
190x40
190x50
200x50
200x60
Min. bending diameter (mm)
500
760
800
1000
1100
1300
1500
2000
2000
2400
2200
250a
Flat bar flat bending
Max. diameter xT (mm)
42x4
76x4.5
89x5
89x8
114x5
159x5
168^6
168x8
219x8
245x8
273x8
323x10
Min. bending diameter (mm)
500
750
900
900
1200
2000
2000
2000
3500
3000
3500
4200
Round pipe bending
Max. bending diameter (mm)
38
52
62
75
85
90
100
110
120
135
150
160
Min. bending diameter (mm)
450
600
600
800
1000
tioo
1200
1300
1350
1800
2000
2000
Square pipe bending
Max. cross section (mm)
45x3
60x4
70x4
80x6
90x8
100x10
125x10
140x10
150x10
165x10
180x12
200x12
Min. bending diameter (mm)
750
900
1000
1200
1600
2000
2500
3000
3000
3500
3500
5000
Max. cross section(mm)
35x5
70x6
80x8
90x10
100x10
120x12
140x12
150x12
160x14
170x14
180x16
200x16
Min. bending diameter (mm)
600
1500
1600
1800
2000
2400
2500
2600
3500
4000
5000
6000
Model of the H-beam
6
8
8
10
16
16
20
22
30
35
40
45
Min. bending diameter (mm)
1200
1800
1800
2000
2200
2200
2600
2600
4000
4500
5000
6000