Universal Plate Bending Machine
Universal Plate Bending Machine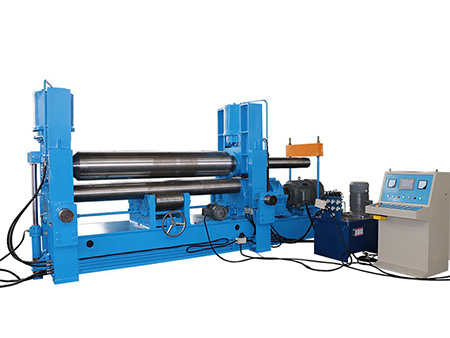 Universal plate bending machine is suited to roll various materials including carbon steel and low alloy steel under normal temperature. It is capable of pre-bending of both ends of the material plate at one time, as well as performing the processes of rolling and leveling of metal plate.
The upper roller can realize vertical and horizontal movements. Pre-bending operation can be implemented through horizontal motion of upper roller, while the lower roller remains the same height to facilitate feeding and operation.
Features
SIEMENS industrial touch screen is adopted, and coupled with PLC to achieve optimal efficiency.
All electrical parts are from SIEMENS such as current relay and air switch to guarantee safe operation.
Hydraulic components are from Japan YUKEN.
The plate bending machine features smooth operation, flexible control, without abnormities such as jamming, oil leakage and irregular noise.
Tilting frame is hydraulically operated, providing fast running and high efficiency.
Upper roller adopts hydraulic transmission for vertical movement and mechanical transmission for horizontal movement.
There is a safe protection function when upper roller is lifted to the limit position.
Tilting and resetting of tilting cylinder is protected by limit switch.
Control unit has an emergency stop button to enable the machine to be stopped immediately, allowing operator to stop the operation when any failure occurs, thus to protect the safety of both operator and equipment.
Applications
Details
Optional configurations
Specifications
W11s
Specification
Rolling thickness(mm)
Pre-bending thickness(mm)
Rolling Width(mm)
Diameter of upper roller(mm)
Main power(Kw)
W11SNC-12x2000
12
10
2000
250
5.5
W11SNC-16x2000
16
12
2000
255
7.5
W11SNC-16x2500
16
12
2500
300
15
W11SNC-20X3000
20
16
3000
375
18.5
W11SNC-25X2500
25
20
2500
380
22
W11SNC-30X2500
30
25
2500
410
30
W11SNC-30X3000
30
25
3000
450
37
W11SNC-35X2500
35
30
2500
460
37
W11SNC-35X3000
35
30
3000
510
45
W11SNC-40X2500
40
35
2500
500
45
W11SNC-40X3000
40
35
3000
540
45
W11SNC-40X4000
40
32
4000
610
55
W11SNC-45X3000
45
40
3000
590
55
W11SNC-50X4000
50
45
4000
700
55
W11SNC-55X3000
55
45
3000
620
55
W11SNC-60X3000
60
55
3000
650
75
W11SNC-60X4000
60
50
4000
780
75
W11SNC-70X3000
70
60
3000
710
90
W11SNC-75X3000
75
65
3000
740
90
W11SNC-80X3000
80
75
3000
760
60
W11SNC-80X4000
80
70
4000
860
90
W11SNC-90X4000
90
80
4000
790
110
W11SNC-100x3000
100
90
3000
820
110
W11SNC-120X3000
120
100
3000
860
110
W11SNC-160x3000
160
120
3000
1080
2x75