Four Rollers Plate Bending Machine
Four Rollers Plate Bending Machine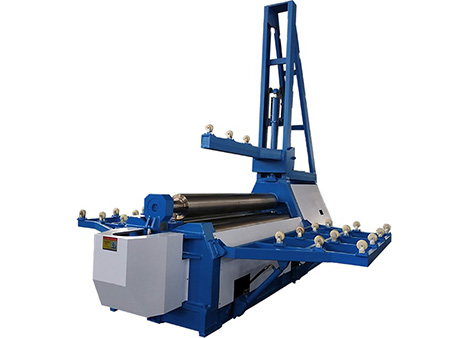 The 4 rolls plate bending machine is hydraulically operated, PLC programmable and controlled by numerical control system, capable of accomplishing automatic rolling process.
During the plate rolling process, top roll stays the same position and the bottom roll moves vertically to hold the metal plate tightly against the top roll. At the same time, two side rolls do the upward movement by linear guide to adjust curvature radius of bent plate, which can implement pre-bending at the end and bending processes in a single direction and in one pass. Automatic mode can be applied in mass production, it provides high forming consistency for workpieces from the same batch.
Features
The plate bending machine can be precisely controlled by NC and CNC numerical control systems, suited to be used in mass production.
Four rolls are forged and hardened, the hardness reaches HRC48-55, which are featured by high strength, good wear resistance, and suitable for heavy workload operation.
Double row roller bearings are used to support work rolls, ensuring a low friction coefficient while reducing reactive power loss.
Side rolls can be raised for accurate pre-bending.
The bottom roll and side rolls can be tilted for cone rolling.
The movements of bottom roll and side rolls are controlled by computer, achieving automatic alignment. Digital display of touch screen provides easy operation, synchronization accuracy reaches ±0.1mm.
Tilting and resetting of bearing body are designed with interlocking device to provide safe operation.
Main electric parts are from Siemens and Schneider, featuring long service life and maintenance free operation.
Moveable control console is easy to operate, touch screen shows the precise positions of work rolls.
The plate bending machine adopts PLC programmable control system, which has functions of fault diagnosis, machine parts monitoring, as well as data memory function when power is goes off.
Hydraulic system is outfitted with high grade valves which feature large flow rate, low resistance and low heat, enabling the machine to be highly reliable.
Hydraulic pipeline connector has reliable radial seal, guaranteeing the smooth operation of hydraulic system without oil leakage.
Hydraulic system has oil filter to keep the system clean.
Machine base is an integral structure, robust and easy to assembly. Both machine body and base are annealed for eliminating of internal stress and improving of processing accuracy.
Applications
Details
Optional configurations
Specifications
 
8*1500
8*2500
10*3000
12*2500
12*3000
16*2500
16*3000
20*2500
20*3000
25*2500
30*3000
25*3000
30*2500
40*2500
40*3000
50*2500
60*3000
Max.
Thickness of bending plate
(mm)
8
8
10
12
12
16
16
20
20
25
30
25
30
40
40
50
60
Thickness of pre-bending
6
6
8
10
10
12
12
16
16
20
25
20
25
32
32
40
50
Width of bending plate
1500
2500
3000
2500
3000
2500
3000
2500
3000
2500
3000
3000
2500
2500
3000
2500
3000
Effective length of the rollers
(mm)
1550
2550
3050
2550
3050
2550
3050
2550
3050
2550
3100
3050
2600
2600
3100
2600
3050
Yield strength of plate
(MPa)
235
235
235
235
235
235
235
235
235
235
235
235
235
235
235
235
235
Min. reel dia. with max. size
(mm)
400
500
550
550
700
600
700
600
800
700
800
800
800
1100
1000
1200
1800
Diameter of roller
Upper
(mm)
180
250
300
280
360
300
350
350
400
400
460
420
450
520
560
620
680
Bottom
170
230
280
260
340
280
330
320
380
380
440
400
410
480
550
600
660
Side
150
200
240
220
260
230
260
280
280
320
380
340
360
420
460
500
520
Roller
Material
42CrMo
42CrMo
42CrMo
42CrMo
42CrMo
42CrMo
42CrMo
42CrMo
42CrMo
42CrMo
42CrMo
42CrMo
42CrMo
42CrMo
42CrMo
42CrMo
42CrMo
Hardness
(HB)
240-286
240-286
240-286
240-286
240-286
240-286
240-286
240-286
240-286
240-286
240-286
240-286
240-286
240-286
240-286
240-286
240-286
Induction hardened roll
YES
YES
YES
YES
YES
YES
YES
YES
YES
YES
YES
YES
YES
YES
YES
YES
YES
Roll Profile
crown
crown
crown
crown
crown
crown
crown
crown
crown
crown
crown
crown
crown
crown
crown
crown
crown
Lifting mode
hydraulic
hydraulic
hydraulic
hydraulic
hydraulic
hydraulic
hydraulic
hydraulic
hydraulic
hydraulic
hydraulic
hydraulic
hydraulic
hydraulic
hydraulic
hydraulic
hydraulic
Lifting synchronous precise
±(mm)
0.2
0.2
0.2
0.2
0.2
0.2
0.2
0.2
0.2
0.2
0.2
0.2
0.2
0.2
0.2
0.2
0.2
All bearing brands
Self aligning roller bearing
Self aligning roller bearing
Self aligning roller bearing
Self aligning roller bearing
Self aligning roller bearing
Self aligning roller bearing
Self aligning roller bearing
Self aligning roller bearing
Self aligning roller bearing
Self aligning roller bearing
Self aligning roller bearing
Self aligning roller bearing
Self aligning roller bearing
Self aligning roller bearing
Self aligning roller bearing
Self aligning roller bearing
Self aligning roller bearing
Conical bending device
Yes
Yes
Yes
Yes
Yes
Yes
Yes
Yes
Yes
Yes
Yes
Yes
Yes
Yes
Yes
Yes
Yes
Driving mode
Motor + reducer
Motor + reducer
Motor + reducer
Motor + reducer
Motor + reducer
Motor + reducer
Motor + reducer
Motor + reducer
Motor + reducer
Motor + reducer
Motor + reducer
Motor + reducer
Motor + reducer
Motor + reducer
Motor + reducer
Motor + reducer
Motor + reducer
Control system
Control mode
NC
NC
NC
NC
NC
NC
NC
NC
NC
NC
NC
NC
NC
NC
NC
NC
NC
Display of position & displacement
LCD
LCD
LCD
LCD
LCD
LCD
LCD
LCD
LCD
LCD
LCD
LCD
LCD
LCD
LCD
LCD
LCD
PLC
Omron
Omron
Omron
Omron
Omron
Omron
Omron
Omron
Omron
Omron
Omron
Omron
Omron
Omron
Omron
Omron
Omron
Electrical part system
Siemnens
Siemnens
Siemnens
Siemnens
Siemnens
Siemnens
Siemnens
Siemnens
Siemnens
Siemnens
Siemnens
Siemnens
Siemnens
Siemnens
Siemnens
Siemnens
Siemnens
Plate bending speed
(m/min)
About 3.5
About 3.5
About 3.5
About 3.5
About 3.5
About 3.5
About 3.5
About 3.5
About 3.5
About 3.5
About 3.5
About 3.5
About 3.5
About 3.5
About 3.5
About 3.5
About 3.5
Descending/ascending speed of bottom roller
(mm/min)
About 160
About 160
About 160
About 160
About 160
About 160
About 160
About 160
About 160
About 160
About 160
About 160
About 160
About 160
About 160
About 160
About 160
Descending/ascending speed of side roller
(mm/min)
About 260
About 260
About 260
About 260
About 260
About 260
About 260
About 260
About 260
About 260
About 260
About 260
About 300
About 300
About 300
About 300
About 260
Main power motor
(KW)
5,5
7.5
11
11
18.5
11
18.5
18.5
18.5
22
30
22
30
18.5*3
2*22
55
55
Hydraulic system
Max. working pressure
(MPa)
25
22
25
25
25
25
25
25
25
22
22
22
22
22
22
22
25
Valve
Yuken
Yuken
Yuken
Yuken
Yuken
Yuken
Yuken
Yuken
Yuken
Yuken
Yuken
Yuken
Yuken
Yuken
Yuken
Yuken
Yuken
Seal
Valque
Valque
Valque
Valque
Valque
Valque
Valque
Valque
Valque
Valque
Valque
Valque
Valque
Valque
Valque
Valque
Valque
Electrical & hydraulic protection against overload
Yes
Yes
Yes
Yes
Yes
Yes
Yes
Yes
Yes
Yes
Yes
Yes
Yes
Yes
Yes
Yes
Yes
Construction steel material
Q235
Q235
Q235
Q235
Q235
Q235
Q235
Q235
Q235
Q235
Q235
Q235
Q235
Q235
Q235
Q235
Q235
Side support for big sheet metal diameters
optional
optional
optional
optional
optional
optional
optional
optional
optional
optional
optional
optional
optional
optional
optional
optional
optional
Central support for big sheet metal diameters
optional
optional
optional
optional
optional
optional
optional
optional
optional
optional
optional
optional
optional
optional
optional
optional
optional
Feeding table
optional
optional
optional
optional
optional
optional
optional
optional
optional
optional
optional
optional
optional
optional
optional
optional
optional
Oil cooler system
optional
optional
optional
optional
optional
optional
optional
optional
optional
optional
optional
optional
optional
optional
optional
optional
optional